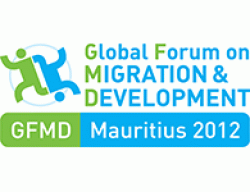 "Enhancing the human development of migrants and their contribution to the development of communities and states"
Objectives of GFMD 2012
Since its inauguration in 2007, the GFMD has evolved into the most important inter-governmental process of
its kind to tackle the complex linkages between migration and development. Its voluntary, informal, nonbinding
character has enabled governments to discuss sensitive migration issues without controversy, and to
manage migration and development opportunities and challenges more effectively. The GFMD is helping
governments to explore workable forms of collaboration with each other and with non-state partners towards
better practices in these two inter-linked policy fields. Today, the GFMD is a central point of reference for the
global discourse on migration and development, and has entered the agendas of many related international
forums.
In 2012, the Mauritian Chair-in-Office seeks to build on these strengths of the Forum to further secure its
future as a global dialogue process. This includes the second and final stage of the overall assessment of the
GFMD process, including possible options for the future of the Forum.